To access your copy of the brochure, enter your details on the right >>



Download the brochure to:

Gain a complete overview of the event, including the speaker line-up and business critical topics which feature on the agenda
Take advantage of the Last Chance discounted rates
Receive useful videos, articles and white papers directly relating to the event topics straight to your inbox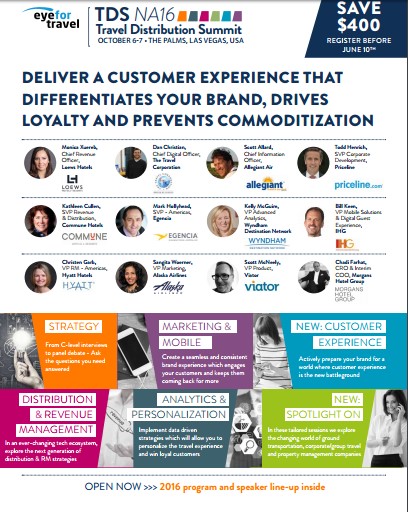 See the speaker line-up and agenda by downloading your brochure on the right >>



We will not share your details with any third parties or affiliates. As the e-brochure will be emailed to you, please ensure that you fill out the correct email address.


EyeforTravel North America 2016
Compete Like a Digitally Born Travel Brand

EyeforTravel Limited, a registered company in England and Wales - Registered Number 06286442. 7-9 Fashion Street, London, E1 6PX, UK | Terms and conditions
Julia Heighton
Global Conference Director
EyeForTravel
E: julia@eyefortravel.com
+1800 814 3459 x7229 (US)
+44 (0) 207 375 7229 (Global)
EyeforTravel North America brings you the most relevant and innovative online travel strategies to help you win valuable customers and grow your business.